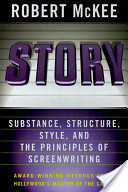 Story: Style, Structure, Substance, and the Principles of Screenwriting is a screenwriting tutorial book by Robert McKee. It is known as the "screenwriters' bible". Although the book was intended originally for screenwriters, it also serves as a valuable resource for any type of fiction writing, or even nonfiction writing if it is a narrative.
Robert McKee is also famous for his screenwriting lectures, which he started giving in 1983. Many famous screenwriters have praised him as an inspiration and said he was responsible for the re-starting of their careers.
Reading this book is considered a "must" by screenwriting industry standards.
"... stimulating, innovative, refreshingly practical." -- -- Lawrence Kasdan, Director

"...the best guide on writing you can find." -- Laurence Chollet, The Record, Northern New Jersey

"In difficult periods of writing, I often turn to Robert McKee's wonderful book for guidance" -- -- Dominick Dunne, Novelist

"McKee is the Stanislavski of writing." -- -- Dennis Dugan, Writer, NYPD Blue

"[Story is]an excellent instruction manual on the craft of storytelling." -- Austin American-Statesman
Ad blocker interference detected!
Wikia is a free-to-use site that makes money from advertising. We have a modified experience for viewers using ad blockers

Wikia is not accessible if you've made further modifications. Remove the custom ad blocker rule(s) and the page will load as expected.